8 oz. Frankincense and Myrrh Body Lotion
$13.50
Frankincense and Myrrh Body Lotion
Our Frankincense and Myrrh Body Lotion is now available year round, making it a perfect choice for your year-round fragrance needs. A Christmas tradition dating back to the first Christmas, this beautiful blend of Frankincense and Myrrh is deep and smoky, with a warm, exotic aroma that lasts all day long. So why wait for Christmas? Get our Frankincense and Myrrh Body Lotion today and enjoy the festive, holiday fragrance any time of year!

Customer Reviews
GREAT PRODUCT
My husband and I love this product. It makes our hands so soft without feeling greasy and love the fragrance.
REVIEW BY MS.CLAUS / (POSTED ON 5/23/2017)
WHAT SCENT IS THAT?
I love this fragrance. It is a classic. Everyone says I smell so good!
REVIEW BY HOUNDTIME / (POSTED ON 2/15/2017)
LOVE FRANKINCENSE& MRRYH LOTION
Absolutely LOVE this fragrance in a lotion. This is sooooo refreshing, a WONDERFUL lotion!!!
Thank You!!!!
REVIEW BY CALORIE13 / (POSTED ON 11/23/2016)
LOVE LOVE LOVE THIS LOTION/SCENT!!
This lotion is incredibly creamy, & smooth to apply. The fragrance is so lovely too.
REVIEW BY LO / (POSTED ON 8/3/2016)
Ingredients
Distilled Water
Sweet Almond Oil
Fractionated Coconut Oil
Avocado Oil
Jojoba Oil
Steric Acid
Emulsifying Wax NF
Behentrimonium Methosulfate
Cetyl Alcohol
Butylenes Glycol
Fragrance Oil
Phenoxolethanol
Caprylyl Glycol
Manufacturer
Misty Mountain Soap Co.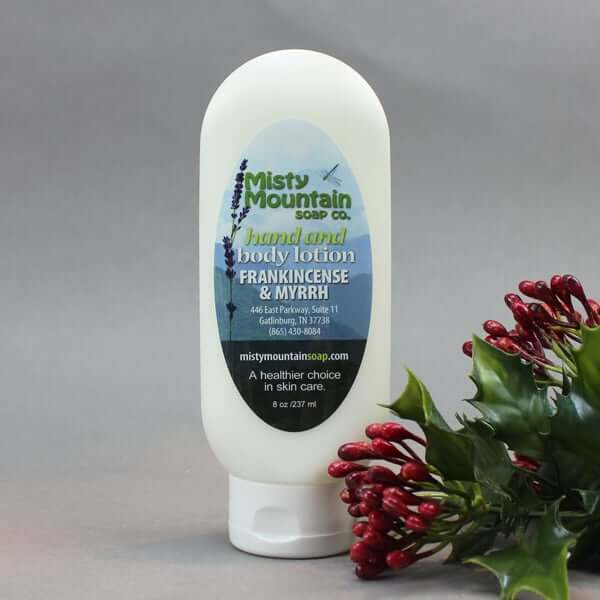 | | |
| --- | --- |
| Weight | 8 oz |
| Size | 2 oz, 8 oz, 16 oz |