In The News – Achievements – Associations

About Misty Mountain Soap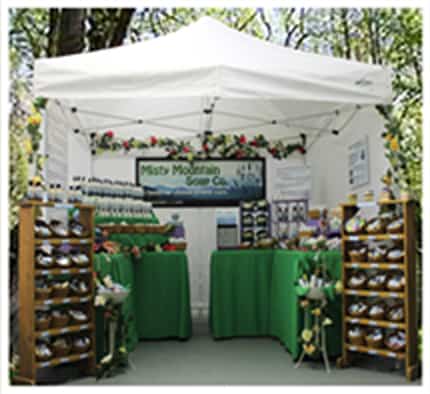 Misty Mountain Soap Company started from a mother and daughter's vision to create handmade soaps along with bath and body products for people who desire a more natural approach to skin care.
About 15 years ago, we began using natural goat's milk soaps made by a neighbor for my Mom who was ill. I was hooked from the very beginning. The soaps made a definite difference in my very dry skin & also in my daughter Rose's sensitive skin. No more store bought soaps for us.
We started by researching, learning, formulating, & creating soaps in our kitchen at home. I made the soap & Emily Rose enjoyed cutting it into bars & trimming them. We decided to share our products with others & began selling them at local arts & crafts festivals. As the business continued to grow, we moved into a workshop that was a part of our home. Over time, many members of our family were recruited to help in one way or another.
Not only is the size of our business growing, our product lines continue to grow & change as well. We now occupy over 5000 square feet of workshop space along with our 2 retail shops on the Arts & Crafts loop, in Gatlinburg, Tennessee. We are still a family business even though not all of our family is related by blood. We continue to exhibit at arts & craft shows, especially the local events in the Gatlinburg & Knoxville area… We love to have people visit our shops & sample everything we have for sale. Although we have grown, we still strive to use only the highest quality vegan oils (no animal fats) in our soaps along with herbs, botanicals, goats milk, essential &/or fragrance oils. We craft around 50 varieties of soap ranging from Avocado, for sensitive skin, to Doggie Shampoo for our four legged friends. Our lotions & creams are formulated with natural oils & butters and using the least amount of synthetic preservatives possible.
Thank you to all of our customers for keeping us so busy. We hope you enjoy using our products as much as we enjoy making them.
Cindy Heinemann & the crew at Misty Mountain Soap