16 oz. Frankincense and Myrrh Lotion
$23.50
Frankincense and Myrrh Lotion
Our Frankincense and Myrrh Lotion is infused with the intoxicating scent of frankincense and myrrh, this lotion is perfect for those who want to enjoy the warm, exotic fragrance of these two classic Christmas scents all year long.
But this Body Lotion isn't just about the wonderful scent – it's also an ultra-moisturizing, nourishing lotion that will leave your skin feeling soft, smooth, and healthy. Made with a blend the finest ingredients like jojoba oil, this lotion is perfect for dry or sensitive skin.
So why wait? Get yourself a bottle (or two) of our Frankincense and Myrrh Body Lotion today and enjoy the amazing scent and benefits all year long!

Customer Reviews
GREAT PRODUCT
My husband and I love this product. It makes our hands so soft without feeling greasy and love the fragrance.
REVIEW BY MS.CLAUS / (POSTED ON 5/23/2017)
WHAT SCENT IS THAT?
I love this fragrance. It is a classic. Everyone says I smell so good!
REVIEW BY HOUNDTIME / (POSTED ON 2/15/2017)
LOVE FRANKINCENSE& MRRYH LOTION
Absolutely LOVE this fragrance in a lotion. This is sooooo refreshing, a WONDERFUL lotion!!!
Thank You!!!!
REVIEW BY CALORIE13 / (POSTED ON 11/23/2016)
LOVE LOVE LOVE THIS LOTION/SCENT!!
This lotion is incredibly creamy, & smooth to apply. The fragrance is so lovely too.
REVIEW BY LO / (POSTED ON 8/3/2016)
Ingredients
Distilled Water
Sweet Almond Oil
Fractionated Coconut Oil
Avocado Oil
Jojoba Oil
Steric Acid
Emulsifying Wax NF
Behentrimonium Methosulfate
Cetyl Alcohol
Butylenes Glycol
Fragrance Oil
Phenoxolethanol
Caprylyl Glycol
Manufacturer
Misty Mountain Soap Co.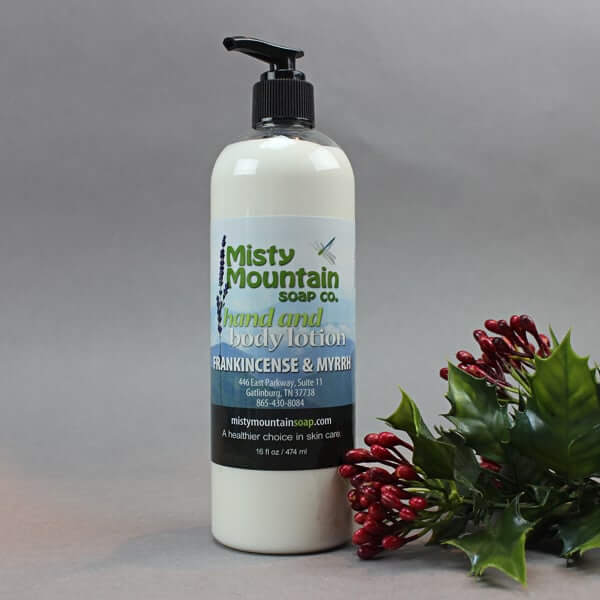 | | |
| --- | --- |
| Weight | 16 oz |
| Size | 2 oz, 8 oz, 16 oz |