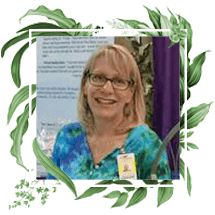 Cindy Heinemann – Our Owner & Originator of Misty Mountain Soap. Cindy, along with her daugher Rose, started this company at home & with lots of work & love, has built it into the business that you see today. Cindy loves nature like so many of the rest of us that live here and spends as much time as possible out in the Great Smoky Mountains National park or on a lake in her kayak. When at home she is also Mom to an extremely rotten rescue dog named Sadie.
Favorite Products: Bar Soap (patchouli or lavender), Healthy Heels – Herbal Help, Hydrating Facial Cream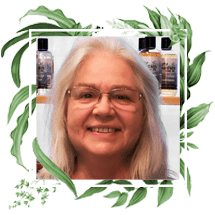 Karen Dawkins – Karen is a "former craft shop" owner that we met several years ago & now works retail sales part time primarily at our Pigeon Forge location. Karen is married, a lover of both dogs & flowers and is an avid gardener. She loves when customers drop by with their dogs.
Favorite Products: Hydrating Facial Cream, Healing Balm, Deodorant & Foot Powder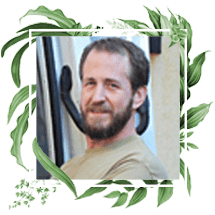 Wes Cogdill – The Friendly Voice On The Other End Of The Phone – Wes is the friendly voice on the other end of the phone when you call our Production facility to place an order or have a question. Wes is responsible for all of our orders being processed & shipped quickly and correctly so when you get that package quicker than you thought you would, you can thank Wes. Wes also helps out wrapping soap, making body mists & making sure that our retail stores are fully stocked for your shopping enjoyment. Remember I said we are a family here….well in this case it's by blood. He is the younger brother of Diane.
Favorite Products: Herbal Healing Salve, Sandalwood Bar Soap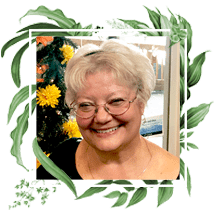 Jacqueline Newton – Or Jacque as she has been known to most people, is a familiar face around the Arts & Crafts Community but is new to our retail shops & we are very glad she is now working with us. Jacque is originally from Indianapolis, Indiana & migrated to our beautiful mountains about 5 years ago. She is a gifted pianist & has performed several places locally as well as being passionate about designing & creating! She has 2 children, 5 grandchildren & a Chihuahua named Isabella Grace! Away from Misty Mountain Soap, she enjoys spending time with friends! Oh yeah, she is also a photographer at Ripleys Aquarium of the Smokies.
Favorite Products: Herbal Healing Salve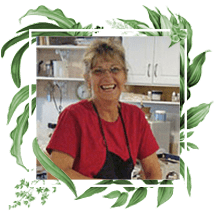 Diane Belitz – Our first full-time employee – Diane starting working for MMS when it was still all being produced in Cindy's home. She is an artist in her own right but we are blessed that she channels many of her creative talents into helping us create such great products. If you purchase a gift set or basket….she is the person who put that together for you. Along with Cindy she is one of the players when we develop a new product idea with formulating, testing & reformulating….etc. Diane quilts when she is away from here, as well as, spending as much time as she can being "Meme" to her grandchildren.
Favorite Products: Natural Deodorant, Facial Cream, Herbal Healing Balm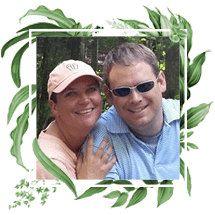 Brittney Ferguson – Primary Lotion crafter – Brittney started working with us when we had only one location in Gatlinburg at the Covered Bridge developement. At that time we had both our production & retail shop in the same place. It got a bit crowded at times! Brittney is versatle. She is our primary lotion crafter, but splits her time between our production location & retail stores as well as helping out with set up & sales at our local craft events. Brittney is a runner as well as avid hiker. Along with her husband Chuck, they are parents to a couple of fur babies.
Favorite Products: Monoi Lotion, Cucumber Mint Foaming Sugar Scrub, Herbal Help Healthy Heels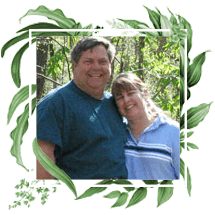 Beverly Burns – Glades Rd Retail Shop – Beverly joined our retail team at our shops along Glades Rd. She is a long time customer & brings that knowledge along with her background with Do'Terra Essential Oils to us. She lives in Townsend, Tn along with her husband Edd. They have 4 daughters, a grandson, 1 dog & 2 kitties. Like the rest of us, the mountains are her "happy place" & spends time driving & hiking them. She also loves handcrafted items, visiting craft events, needlecraft, a variety of music, "bears" & dabbling in gardening.
Favorite Products: Herbal Healing products, Hydrating Facial Cream & Monoi de Tahiti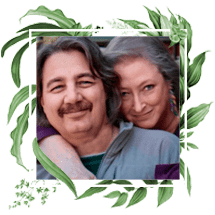 Randy & Terry Ann Fritchman – Husband & wife, best friends & partners in everything – Terry is our office manager, web master, product photographer, email & newsletter creator. Randy is our primary bar soap maker & resident carpenter/handiman. Besides working with us they are both locally recognized artists in their own right owning AutumnView Studio where they create Stained Glass & Woodturning. In the few hours as week they take away from work they love hiking, travel & touring our beautiful mountains with the top down on their Jeep as well as being parents to two fur babies….Mulder & Scully. Oh yeah, they love movies and books in the fantasy & science fiction genre.
Favorite Products: Bath salts, Herbal Healing Balm, Mt. LeConte, Winter Woods & Patchouli & Clove Bar Soaps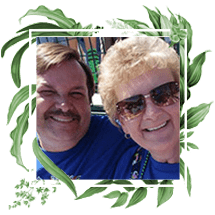 Grace Bova – Grace is a recent "early" retiree to our mountain home from Illinois. As her FaceBook page said, the mountains called, so they came. She found us while on vacation & says she was "hooked" on the products. Grace & her husband Doug, who is working for the Great Smoky Mountains Association, have two children back in Illinois. Grace is still exploring our area & finding many "hidden" places. Her interests include sewing (she used to be a tailor), reading, history and Cubs baseball.
Favorite Products: Sweet Dreams, Body Butter & Bare Naked Lip Balm. Hubby's favorite product is Mountain Rose Bar Soap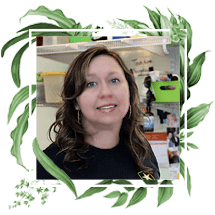 Rosa Huskey – Production & Sales – Rosa started with us at our Covered Bridge location in a Sales capacity but quickly showed us the value of her versatility. She has moved into production, & crafts a variety of your favorite products, including our Liquid Soaps. Being versatile is a huge benefit to a small business & Rosa will help out in our shops or at our local craft events as needed. She lives with her husband Randall & is Mom to two teenagers and several fur children. She enjoys refinishing old furniture, spending time out in our National Park & with family.
Favorite Products: Caribbean Coconut Liquid Soap, Cucumber Mint Foaming Sugar Scrub, Lotions