Coconut Wax Candles Really Are The Best Candle

Coconut wax candles and wax melts are a great alternative to other types of candles because they burn longer, cleaner, and brighter. They also have many benefits over traditional soy candles. Some people believe that coconut is one of the most beneficial products in their beauty routine, so it only makes sense to use it for your home décor too!
Here are the top 4 reasons why you should switch from regular candles to coconut wax ones:
#1. Longer lasting candles and wax melts
Coconut wax candles burn approximately 10-15% longer than soy candles, while costing the same. If you're switching over to just 1 coconut candle per week, that's about 3-4 fewer times you'll have to replace your candle! Coconut wax candles are all around better quality than soy and paraffin counterparts
#2. More Eco-friendly
Coconut wax is a renewable and naturally occurring resource. It's an amazing resource for people who are looking to use sustainable products with eco-friendly practices.
#3 Burn Cleaner
Coconut wax candles are the best way to go when you're looking for a cleaner burning candle. They burn longer and emit zero toxins, so there's no need in worrying about what other types of toxic substances might be coming out your candle and drifting through the air.
#4 Better Scent Throw
Coconut wax candles have a stronger and more pleasant scent throw than many other types of candles.
The wonderful aroma that comes from these eco-friendly creations can fill up any room with happiness making you feel like ready for good times ahead!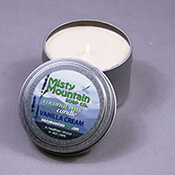 Vanilla Cream Coconut Wax Candle
Take a moment to relax and enjoy the sweet, calming aroma of vanilla and cream. Blended with natural coconut wax, this candle is perfect for filling any room with a sense of peace and tranquility.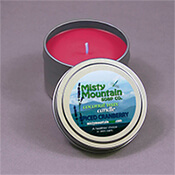 Spiced Cranberry Coconut Wax Candle
An intoxicating scent of Spiced Cranberry is handmade by Misty Mountain Soap Company and is strong and inviting. If you are looking for an autumn or holiday scent, then this candle will fill your home with the comfort of being surrounded by loved ones.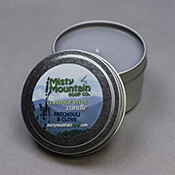 Patchouli and Clove Coconut Wax Candle
This candle is the perfect way to bring some earthy magic into your space. The rich, smoky scent of patchouli essential oil is blended with the warm, spicy notes of clove for a candle that's both enchanting and grounding.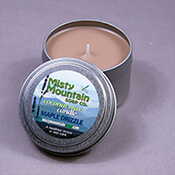 Maple Drizzle Coconut Wax Candle
Burning this candle is like taking a step into a cozy Vermont cabin in the middle of winter. The sweet, warm maple sugar and butter scent is extremely rich and complex, perfect for filling any room with a cozy atmosphere.
Whether you're looking for a product that burns cleaner, longer, brighter, coconut wax candles have it all. Give them a try today!