Did you know that handmade body butters could be the answer for your dry skin problems? If not, keep reading and find out how our body butters can change your life.
Benefits of Body Butters
Body butters deliver their moisturizing, healing and protecting benefits through natural ingredients that penetrate deep into your skin. Body butters don't wash away or evaporate when you rinse with water. You can actually see the moisture being soaked up! The longer body butter remains on your skin, the better chance it has to do its job.
On top of all this, handmade body butter is great for people who are out in the sun a lot because it protects against harsh rays. It's also great for people who are trying to prevent stretch marks because it helps heal rough or dry skin that could otherwise cause scarring or stretch marks.
Our body butter is handmade and designed to leave your skin feeling smooth, silky and touchable. Made with shea and cocoa butters that are whipped to perfection, only a small amount of our thick and rich butter is needed for lasting moisture. The shea and cocoa butters naturally hydrate and seal in moisture for the skin.
Let's look at 2 main ingredients:
Shea Butter
As you might already suspect, shea butter benefits skin in many ways. Shea naturally contains high amounts of vitamins A, E, F and P as well as antioxidants. These wonderful nutrients work together to provide hydration, repair damage done by the sun, reduce inflammation, heal scars, prevent aging, fight acne breakouts and help protect against free radicals. Because it's loaded with fatty acids that are easily absorbed, shea performs its magic from the inside out—reducing fine lines from within.
Cocoa Butter
Cocoa butter benefits skin in much the same way shea butter does. Cocoa is rich in polyphenols, which are antioxidants that can help control free radicals that damage cells.
The antioxidants in cocoa butter even help fight wrinkles and sagging.
The high amounts of Vitamin E and magnesium in cocoa butter can help improve dry skin and prevent or relieve eczema, dermatitis and other inflammations.
We offer handmade body butters that provide all the benefits above and come in a variety of fragrances: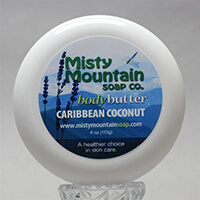 This enchanting fragrance of rich and exotic coconut will carry you to the tropics. Great for warmer seasons or as a reminder during long winters days. It's like taking your favorite vacation in a tiny container!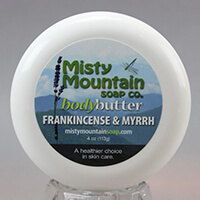 Is a warm and earthy fragrance that is perfect for those looking for a traditional scent of the season.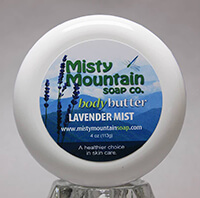 This Lavender Mist is the perfect stress reliever! It's calming and relaxing qualities will make you feel at ease from any stress throughout the day.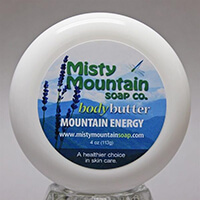 This body butter has the perfect blend of citrus ingredients leaving you feeling refreshed and clean, with just enough fragrance in each of these scents for it not to be overbearing or too strong!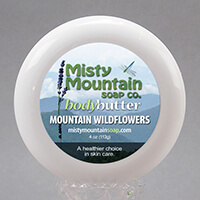 The sweet fragrance of mountain wildflowers wafts through the air, promising a light and breezy aroma all day.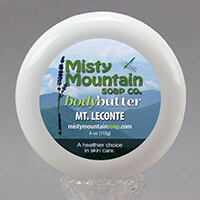 Those who love the forest will enjoy this fragrance. It has a fresh blend of a pine forest and sweetened just enough with orange, sugared vanilla beans that gives off a subtle but noticeable scent that's hard not get hooked on!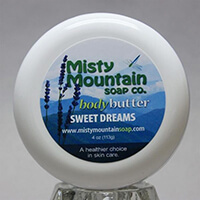 Wrap up in this soft and creamy blend of lavender and musk. Right down to the core, Sweet Dreams body butter is as soothing as it is calming.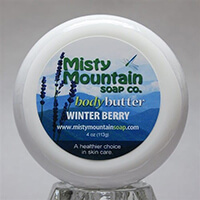 Winterberry Body Butter offers up a light and fragrant fragrance, perfect for those who like an alluring cold season scent. It has a touch of musk to round out the aroma with something sweet to balance it out– giving you an intriguing blend without being overpowering.
If you're looking for the best body butter for dry skin, check out all of our HERE