$7.00 – $12.00
Rated 5.00 out of 5 based on

1

customer rating
Monoï de Tahiti is a naturally concentrated emollient for women of all ages. It is a natural skin care product made from the "Tiare" Gardenia blossoms & coconut extract from the Cocos Nucifera palm tree. It has naturally superior hydrating qualities as well as protection for your skin against premature wrinkles, sun & wind damage. The "Tiare" scent will take your breath away!
IMPORTANT INFORMATION PLEASE NOTE: Authentic Monoï de Tahiti may solidify (sometimes unevenly) below 72 F. This is a natural process which does not change or affect its special properties. To restore its fluidity simply warm your Monoï de Tahiti container under hot tap water and enjoy.

Customer Reviews
PACKAGE DIFFERENTLY
Love, love this oil and scent. I bought the 4oz. and I totally agree with the other reviews that this oil should be packaged differently. It solidifies and you can not use the bottle it came in.
It needs to be in a wide mouth jar. I melted mine and have placed in a jar that I can access more easily
REVIEW BY KELLY / (POSTED ON 8/25/2018)
WONDERFUL PRODUCT
Love this oil use it every night on my face and neck prior to bed time!
I do wish it was in a jar do to the fact it gets solid so quick and I have to run it under hot water to be able to use it! Just a suggestion!☺
REVIEW BY REENA / (POSTED ON 6/22/2018)
LOVELY SCENT; LOVELY RESULTS
I love this oil! I do agree with using a different container to make it easier to apply.
The scent and the hydration are wonderful!
REVIEW BY RUTHCS / (POSTED ON 2/8/2018)
JAR PLEASE
I love this oil, it does wonders for your skin and I am 80 years young and still like to look good!!
Consider this in a jar instead of bottle and would be much better to use.
REVIEW BY JAY / (POSTED ON 2/26/2017)
AWESOME!!
This product is amazing! I looked 5 years younger within a few weeks. My husband was and is, in awe of how well this works.
I liquify my bottle and put it in a small mason jar.
I feel like I have more control of the product this way. I perfer to use it hard. It warms up quickly on your face. It lasts a very long time.
REVIEW BY CONNIE / (POSTED ON 12/10/2016)
Ingredients
Coconut Oil
Gardenia Tahitensis Flowers
Manufacturer
Misty Mountain Soap Co.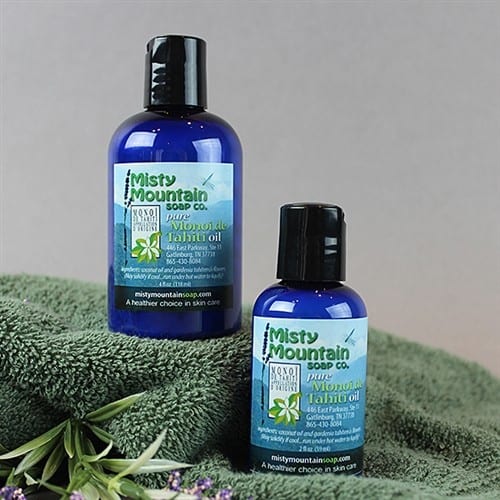 | | |
| --- | --- |
| Weight | N/A |
| Sizes | 2 oz., 4 oz. |