$4.50
Nature offers us many opportunities to explore it's bounty.
Our balm is formulated with the following herbs & essential oils:
Calendula Petals-known for its ability to help heal broken skin
St. Johns Wart- known for its ability to help heal sunburn, wounds & burns/li>
Comfrey- known for its ability to help heal wounds, bruises & sore muscles/li>
Plantain- known for its ability to help heal cuts, burns, insect bites & helps to relieve burning & stinging/li>
Rosemary- known for its ability to help with pain & stiffness/li>
And we have added the following essential oils
Lavender- known for its ability to help to heal burns and wounds/li>
Helichrysum- known for its ability to help to heal scars, has anti-bacterial & anti-fungal properties/li>
Chamomile- known as an effective anti-inflammatory, it is helpful in treating infection, dry or itchy skin & insect bites/li>
Tea Tree- known for its strong anti-viral, anti-fungal & anti-bacterial qualities, helps to heal/li>
All in a base of beeswax, olive oil & vitamin E. Plus a new larger size for those warmer weather "boo-boos"…. 2 ounces

Customer Reviews
GREAT FOR BURNS OR BUG BITES
I slightly burned my fingertips on a stove burner and quickly put this on them. Within only a few minutes the pain was gone and it never even blistered up.
I had also put it on a bug bite that was slightly swollen and itching and it took away the itching almost immediately and the swelling went down not long after that. I would definitely recommend keeping this in your medicine cabinet.
REVIEW BY PAULA / (POSTED ON 3/14/2018)
BEST PRODUCT I HAVE FOUND TO HELP
I was visiting Gatlinburg on vacation and happened to come across this store. I stopped in and was talking the store clerk about my skin disease. I have hidradenitis suppurativa.
I wish I would have taken before and after pictures but I want you all to know that this has totally helped clear up my areas under my arms.
No it isn't 100% gone but there is definitely a dramatic difference with only using this product once a day for 5 days thus far.
REVIEW BY NIKKI G. / (POSTED ON 6/14/2017)
GREAT FOR CHAPPED LIPS
I have been using the Misty Mountain herbal healing balm for years now. It is the very best on the market for chapped lips.
It healed my chronic chapped lips literally overnight.
I also developed that cracked skin at the end of a thumb and a finger that is so painful. It healed that as well overnight.
This balm goes everywhere with me. It is wonderful.
REVIEW BY MARY- ASHLAND, TN / (POSTED ON 1/16/2017)
MIRACLE BALM
I am prone to fever blisters after being in the sun. They typically last 10 – 14 days. I have tried every over the counter product and home remedy out there.
I bought a tube of your Herbal Healing Balm at the Craft Fair in Gatlinburg last week.
3 days later, I woke up with a fever blister. I used the Healing Balm on my lip and the fever blister was completely gone 2 days later!
It never dried out or got sore like they usually do. My lip is soft and fever blister free.
I will be ordering more Heaing Balm so I'm never without it. I have loved your products for years. Thank you for this miracle balm.
REVIEW BY KELLIE L. / (POSTED ON 9/3/2013)
Ingredients
Olive oil infused with:
Rosemary
Calendula Petals
Plaitain
St. Johns Wort
Comfrey
Beeswax
Vitamin E
Essential oils of Pine Needle, Chamomile, Lavender, Tea Tree, Spearmint & Helichrysum
In stock (can be backordered)
Manufacturer
Misty Mountain Soap Co.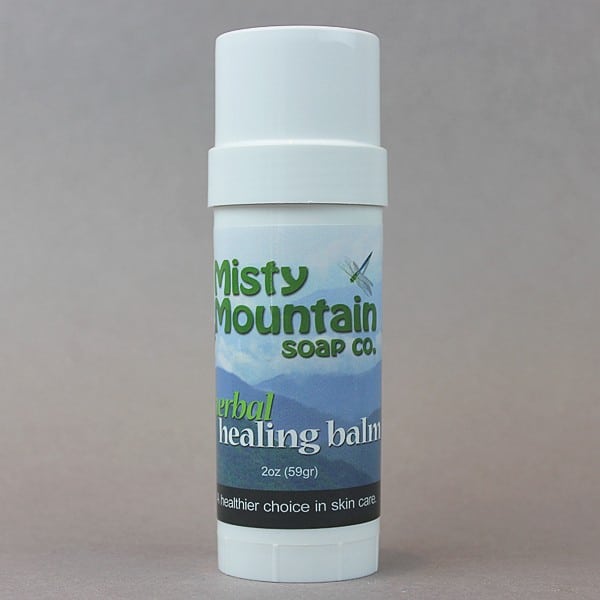 | | |
| --- | --- |
| Weight | .15 oz |
| Size | Travel Size .15 Ounce, 1/2 Ounce, 2 Ounce |