Shower Scent-sations 3 Pack
$9.00
Our Aroma Therapy Shower Scent-sation Tabs offers a unique way to enjoy your aromatherapy in the shower! Choose your fragrance and receive three scent-sation tabs!
These are our popular fragrances:
Awake: Wake up in the morning or any time of day with the fresh and invigorating fragrance of peppermint.
Calming: The wonderful fragrance of Lavender has long been used to help calm and relax.
Energize: Energize your shower with Lemongrass and Ginger, it will invigorate and help get you moving.
Refresh: A light and "refreshing" aroma of White Tea & Grapefruit fragrance.
Sinus: If you're a bit stuffy, this great blend of essential and fragrance oils in your shower can definitely help!
To enjoy the great aroma therapy from these shower tabs, just place them in your shower, out of the direct stream of water and they will slowly dissolve releasing their wonderful fragrance.
Will last approximately 3 showers per tab.

Customer Reviews
YOU HAVE GOT TO TRY IT!
My Mama & I love the sinus shower scent-sations! They are the best and I mean best thing to use for sinus issues. We have tried almost every thing to clear up his sinuses.
So what i'm trying to say is you have got to try this stuff. PS try the energy one too.
REVIEW BY JUDE / (POSTED ON 12/19/2017)
Ingredients
Sodium Bicarbonate
Citric Acid
Cornstarch
Witch Hazel
Essential Oil and Fragrance Oils of Camphor
Eucalyptus
Menthol & Rosemary
Manufacturer
Misty Mountain Soap Co.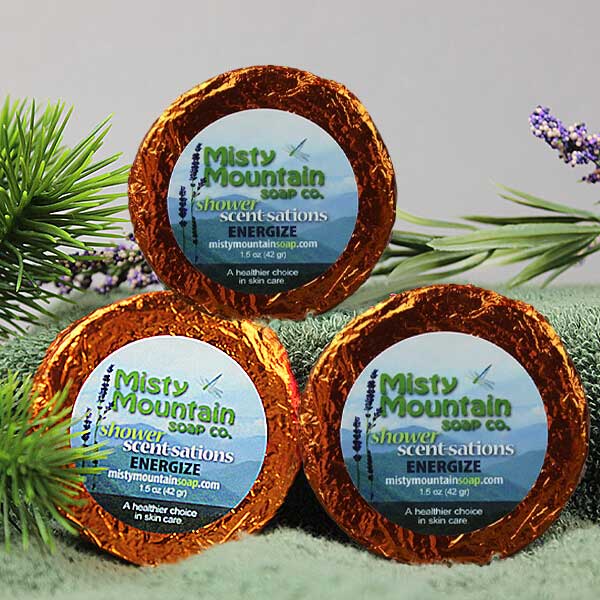 | | |
| --- | --- |
| Weight | N/A |
| Fragrance | Awake, Calming, Energize, Refresh, Sinus |