$10.00
We are excited to share our most popular products and fragrances in Two Different "Sampler Sets".
Each Set is priced at $10 and contains a coupon for $10 to be used toward a future purchase of $10 or more. The perfect "risk free" way to try new products of introduce our friends to our great products.
FAVORITES FROM NATURE
Ache-No-More Lotion
Herbal Healing Lotion
Herbal Healing Balm
Bug-Be-Gone Mist
Mountain Herbs Lip Balm
Lavender Mist Salt Scrub
Rosemary Mist Soap
*Please note only one of each Coupon per Customer….Thanks.
Customer Reviews
GREAT GIFT IDEA!
This set is a great way to try new products. I love the ache-no-more lotion. My friends will be getting this set for Christmas. REVIEW BY TINA / (POSTED ON 5/9/2017)
Ingredients
Ache-No-More Lotion .5oz – distilled water, mango butter, olive oil, avocado oil, emulsifying wax NF, menthol, behentrimonium methosulfate (and) cetyl alcohol (and) butylenes glycol, essential oils of peppermint, eucalyptus & camphor, phenoxolethanol (and) caprylyl glycol.
Bug-Be-Bong Mist .5 oz – water, nonoxynol 12, polysorbate 80, glycerine, proppylene glycol, methylchloroisothiazoline, methylisothiazolinone, essential oils of: lemon grass, lemon eucalyptus, listea, orange, citronella, spruce, peppermint, spearmint, catnip & menthol crystals
Herbal Healing Balm .20 oz – Olive oil infused with: Rosemary, Calendula Petals, Plaitain, St. Johns Wort, Comfrey, Beeswax, Vitamin E, Essential oils of Pine Needle, Chamomile, Lavender, Tea Tree, Spearmint & Helichrysum.
Herbal Healing Lotion .6 oz – distilled water, shea oil, avocado oil, meadowform oil, evening primrose oil, steric acid, emulsifying wax NF, behentrimonium methosulfate & cetyl acohol, butylenes glycol, essential oils, phenoxolethanol & caprylyl glycol, rosemary leaf, comfry leaf, calendula petals, St. John's Wort, plantain leaf
Lavender Mist Salt Scrub .5 oz – Dead Sea Salt, Whipped Shea Butter, Coconut Oil, Cocoa Butter, Avocado Oil, Jojoba Oil, Vitamin E, Lavender Essential Oil.
Mountain Herbs Lip Balm .15oz – Beeswax, Cocoa Butter, Sweet Almond Oil, Apricot Kernel Oil, Virgin Coconut Oil, Jojoba Oil, Mango Butter, Vitamin E, Flavoring Oil.
Rosemary Mint Bar Soap .1oz – Olive Oil, Coconut Oil, Distilled Water, Palm Oil, Sodium Hydroxide, Avocado Oil, Shea Butter, Cocoa Butter, Castor Oil, Essential Oils, Peppermint Leaves, Ground Rosemary
Manufacturer
Misty Mountain Soap Co.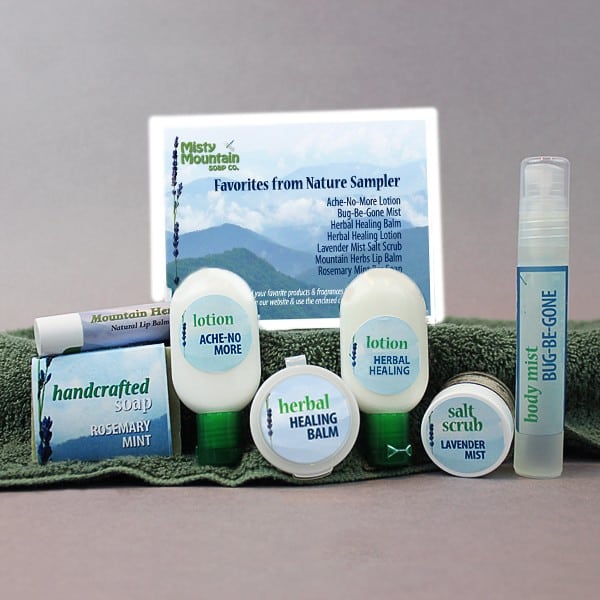 | | |
| --- | --- |
| Weight | .5 oz |
| Fragrance | Florals, Fruits & Berries |