Ingredients
Ache-No-More Lotion .5oz – distilled water, mango butter, olive oil, avocado oil, emulsifying wax NF, menthol, behentrimonium methosulfate (and) cetyl alcohol (and) butylenes glycol, essential oils of peppermint, eucalyptus & camphor, phenoxolethanol (and) caprylyl glycol.
Bug-Be-Bong Mist .5 oz – water, nonoxynol 12, polysorbate 80, glycerine, proppylene glycol, methylchloroisothiazoline, methylisothiazolinone, essential oils of: lemon grass, lemon eucalyptus, listea, orange, citronella, spruce, peppermint, spearmint, catnip & menthol crystals
Herbal Healing Balm .20 oz – Olive oil infused with: Rosemary, Calendula Petals, Plaitain, St. Johns Wort, Comfrey, Beeswax, Vitamin E, Essential oils of Pine Needle, Chamomile, Lavender, Tea Tree, Spearmint & Helichrysum.
Herbal Healing Lotion .6 oz – distilled water, shea oil, avocado oil, meadowform oil, evening primrose oil, steric acid, emulsifying wax NF, behentrimonium methosulfate & cetyl acohol, butylenes glycol, essential oils, phenoxolethanol & caprylyl glycol, rosemary leaf, comfry leaf, calendula petals, St. John's Wort, plantain leaf
Lavender Mist Salt Scrub .5 oz – Dead Sea Salt, Whipped Shea Butter, Coconut Oil, Cocoa Butter, Avocado Oil, Jojoba Oil, Vitamin E, Lavender Essential Oil.
Mountain Herbs Lip Balm .15oz – Beeswax, Cocoa Butter, Sweet Almond Oil, Apricot Kernel Oil, Virgin Coconut Oil, Jojoba Oil, Mango Butter, Vitamin E, Flavoring Oil.
Rosemary Mint Bar Soap .1oz – Olive Oil, Coconut Oil, Distilled Water, Palm Oil, Sodium Hydroxide, Avocado Oil, Shea Butter, Cocoa Butter, Castor Oil, Essential Oils, Peppermint Leaves, Ground Rosemary
Manufacturer
Misty Mountain Soap Co.
Some of our Reviews
GREAT GIFT IDEA!
This set is a great way to try new products. I love the ache-no-more lotion. My friends will be getting this set for Christmas. REVIEW BY TINA / (POSTED ON 5/9/2017)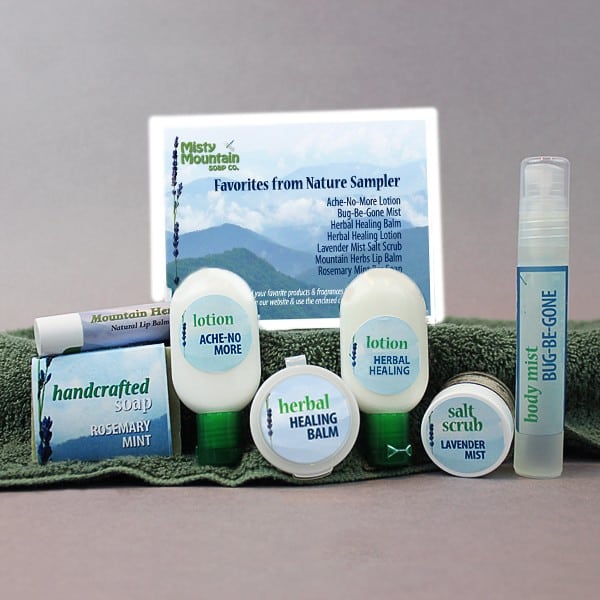 | | |
| --- | --- |
| Weight | .5 oz |
| Fragrance | Florals, Fruits & Berries |